Muhammad Asif Arain

Welcome to my page!
I am a Ph.D. student at Mobile Robotics & Olfaction Lab since September 2012. My research topic is "Sensor Planning Strategies for Robot Gas Emission Monitoring". My supervisors are Erik Schaffernicht, Victor Hernandez, Marco Trincavelli, Marcello Cirillo and Achim J. Lilienthal.
The following video shows what I mean by sensor planning for gas emission monitoring with a mobile robot.

Currently, I am conducting gas emission monitoring experiments in large environments using some improved and newly developed exploration strategies with our Gasbot. Here are some pictures from the preparation stages, and some cool videos will follow.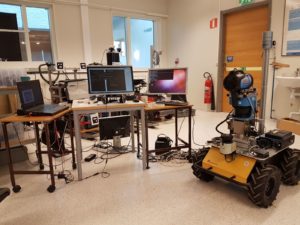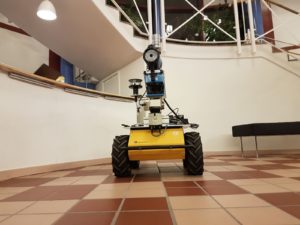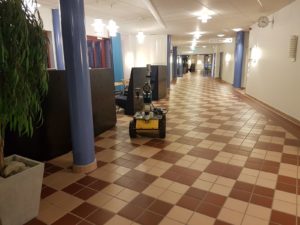 I support:
Brief CV
I am from Badin, located in the south of Pakistan, near the Arabian Sea. I have received my masters under the European Union mobility program of Erasmus Mundus in EMARO (European Master on Advanced Robotics) with dual masters degrees from Warsaw University of Technology, Poland in 2011 and University, of Genova, Italy in 2012. My masters thesis was "Path Planning for a Quadruped Robot on Uneven Terrain" which was conducted at Italian Institute of Technology, Italy. My supervisors for this research were Ioannis Havoutis, Claudio Semini, and Jonas Buchli. Before coming to Europe, I did my bachelors in Electronic Engineering from Mehran University of Engineering & Technology (Pakistan) in 2005, and then I worked as an Instrument Engineer at Pakarab Fertilizers Limited (Pakistan) for almost 4 years.
Contact
Muhammad Asif Arain
AASS Research Centre
School of Science and Technology
Örebro University
70182 Örebro, Sweden
Room T1214
Phone +46 (0)19 30 13 55
asif.arain@oru.se
Publications
Journal Articles
[

1

]

Global coverage measurement planning strategies for mobile robots equipped with a remote gas sensor.

Sensors

,

15

(3)

:6845-6871

,

2015

[ BibTeX | DiVA | PDF ]
Refereed Conference and Workshop Articles
[

1

]

Improving Gas Dispersal Simulation For Mobile Robot Olfaction: Using Robotcreatedoccupancy Maps And Remote Gas Sensors In The Simulation Loop.

In

2017 ISOCS/IEEE International Symposium on Olfaction andElectronic Nose (ISOEN 2017) Proceedings

2017

[ BibTeX | DiVA ]

[

2

]

The Right Direction to Smell : Efficient Sensor Planning Strategies for Robot Assisted Gas Tomography.

In

2016 IEEE International Conference on Robotics and Automation (ICRA)

,

pages 4275-4281

,

2016

[ BibTeX | DiVA | PDF ]

[

3

]

A comparison of search-based planners for a legged robot.

,

pages 104-109

,

2013

[ BibTeX | DiVA | PDF ]

[

4

]

Nonlinear System Identification Using Neural Network.

,

281

:122-131

,

2012

[ BibTeX | DiVA | PDF ]

[

5

]

Navobot formula 2 : a navigation and handling implementation.

2006

[ BibTeX | DiVA ]

[

6

]

Design, Mathematical Modeling \& Simulation of a Robot System with 3-DOF.

2005

[ BibTeX | DiVA ]
Find the complete BibTeX record here.